"If you fail to plan, you plan to fail." — Benjamin Franklin
"If you fail to plan, you plan to fail." — Benjamin Franklin
A good quality life requires informed decisions and planning, rather than crisis decisions. 
Regardless of whether you have a small or large estate, by planning ahead you ensure that your assets pass to the people you choose, in the way you choose and when you choose, while also saving on taxes, court costs and attorney's fees. Should you become incapacitated, having an estate plan ensures your chosen agent, whom you trust completely, is able to handle your financial and personal affairs, with as little to no court involvement.
Oana's passion as an estate planner is to assist her clients in developing a comprehensive estate plan in accordance with their family situation, needs and wishes. Oana's areas of practice are estate planning, including planning for individuals with special needs, estate administration and guardianships. Oana often explains to her clients the tools available to assist them in fulfilling their wishes, tools not available in other parts of the globe.  She encourages them to take advantage of these great tools in order to protect and provide for their loved ones.
"Planning is bringing the future into the present so that you can do something about it." — Alan Lakein
Oana Militaru is a licensed attorney, admitted to practice law in the state of Illinois and U.S. District Court, Northern District of Illinois. Oana was born in Romania, where she obtained her law degree from the Romanian Law School "Simion Barnutiu", Sibiu, in 2001. Upon her arrival to the United States, she continued to pursue her legal career, and obtained her JD from The John Marshall Law School in 2011. Oana is fluent in Romanian and conversational in Spanish.
Throughout law school, Oana was a member of the Moot Court and Trial Advocacy and Dispute Resolution Honors Council. She and her team took second place at the International Law School Mediation Tournament in the spring of 2010. She served as a judicial extern for judges in the Circuit Court of Cook County, Probate Division.
She focuses her practice on estate planning and administration, planning for individuals with special needs, elder law and, guardianship matters. She is a passionate advocate on behalf of her clients, guiding them through the complex processes of probate and guardianship. Whether it is a contested probate or guardianship matter, or an amicable negotiation of a settlement, Oana understands the sensitivities of each situation and the delicate manner in which the client's objectives must be pursued.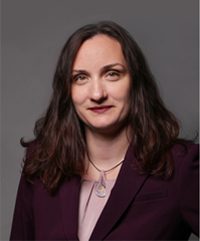 September 2016 – IICLE Special Needs Conference – "Limited Guardianship: A Customized Approach to Substitute Decision Making."
September 2017 – IICLE Special Needs Conference – "Substitute Decision Making."
March 2019  – DiMonte & Lizak, LLC Learning Series Seminars – in collaboration with Margherita Albarello – "Navigating the Americans with Disabilities Act, the Family & Medical Leave Act, and Worker Compensation Absences, and the Benefits of Special Needs Planning."
March 2019 – ISBA – "What Every Estate Planner Should Know About Special Needs Planning."